Fishing Charters for St Georges University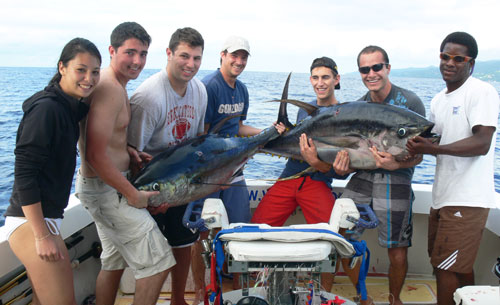 Yellowfin tunas of 107 and 140 lb January 2013
135lb yellowfin January 2016

True Blue Sportfishing is proud to have been helping St George's University students take a break from the stresses of school since 1998.
We offer discounted rates for students and faculty (please "like" our facebook page to qualify - see below) plus we let you take as much table fish home as you like (i.e. not billfish which are always released). For a small tip we will clean and fillet your fish for you as well.
Want to have your catch cooked for you? We have an agreement with The Victory Bar & Grill at Port Louis Marina (where our boat is) and also with BB's Crabback Restaurant on the carenage St George's - both these excellent restaurants will cook your fish for you and discount your whole bill!! So now you can have a great time fishing and follow it up with the experience of eating really fresh fish - you can not beat it - especially when you just caught it yourself!!

"Like" www.facebook.com/SGUfishingcharters to register for the True Blue Sportfishing SGU Eclub

Want to go fishing but don't have enough friends interested? - our SGUeclub can put you in touch with other student fishermen/women! We can also notify you when others are going fishing and need people to make up the numbers. You can only gain by joining so sign up now!

All charters include drinks on board and can be shared by up to 6 persons

EMAIL FOR LATEST SGU rates!!
We prefer to take bookings by email:
Especially for the Ladies

Not really interested in fishing but just want to watch, relax and have fun?
No problem - "Yes Aye" has plenty of foredeck space for sunbathing and you may also get a chance to see dolphins, porpoises, whales and turtles (and fish of course!).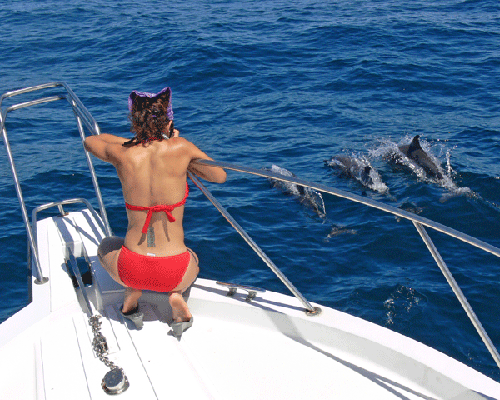 Types of whale we sometimes see:
Sperm, Humpback, Sei, Bryde's, pygmy sperm, dwarf sperm, melon headed, beaked, pilot, false killer and (rarely) true killer whales (Orca).

Types of dolphins:
Common, Spinner, Bottlenose, Fraser's, Spotted and many more!




Captain Gary Clifford
True Blue Sportfishing
@ Port Louis Marina
St. Georges
Grenada
West Indies

Phone: (473) 407-4688

E-mail: yesayegrenada@gmail.com